As we enter the fall season, our mindset is shifting beyond summer vacation mode and towards prepping for all of the upcoming holidays! We LOVE fall! Even though our "Florida fall" is a bit different than everyone else's, we can still get into the mood of the changing colors! As interior designers, we love setting the tone for the seasons by interior styling for…well, any occasion…but especially the seasons! The colors of fall are so versatile with its moody tones and textures which can be interpreted and expressed in many different ways.
Many of us are often too busy to go "all out" in the decorating realm so a great place to incorporate some holiday tones is in your foyer or entry area of the house. We like to call this "Creating a Vignette."
The Main Piece– find a great foyer table. It can be simple or full of character.
Dress it Up– add art above the table which can be seasonal or year round art.
Soften it Up– add in a chair with pillows that are easy to switch up. A nice rug will also help.
Light it Up– add a new light fixture for some fresh illumination.
Snazz it Up– add your seasonal elements: pumpkins, candles, flowers or special things that make you smile.
The Dare– Only for the super DIY brave and non-commitment-phobia kind. Would you dare paint the walls or ceiling for the season?!
We came up with two color schemes to inspire you to get moody (the good kind of moody) this fall!
1. Go Vibrant!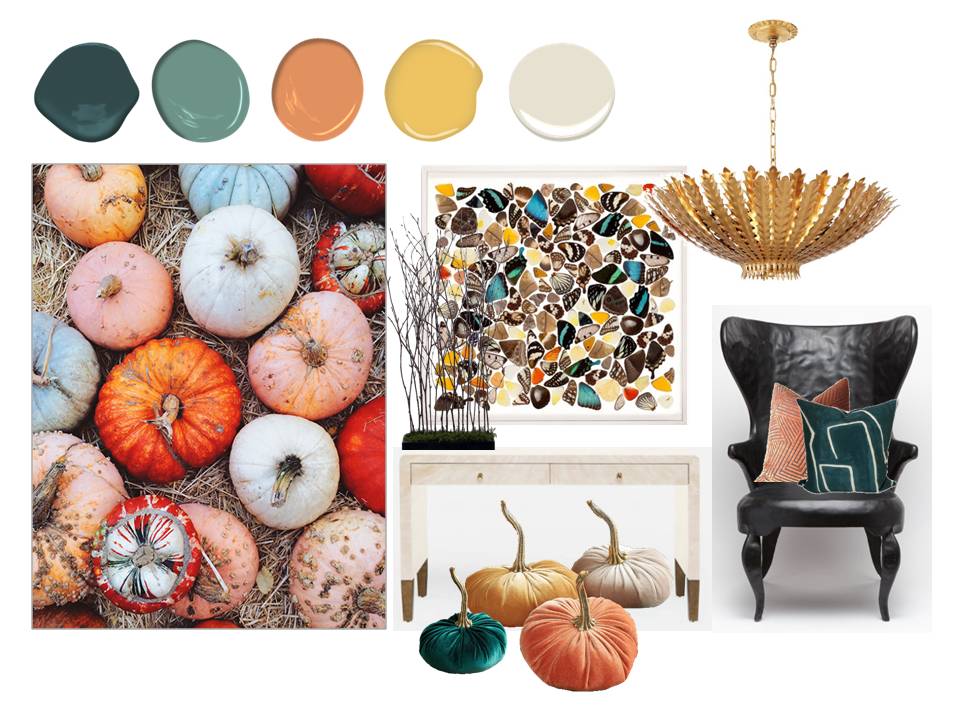 When I think of a pumpkin patch, "Root" colors come to mind! These are grounding colors, which allow you to literally feel "grounded and rooted" during the upcoming quick changes of the seasons.
A neutral table can be easier to work with if you want your other accent pieces to be a bit wilder and stick out, like this butterfly wing art piece. A tall branchy floral on the table is understated yet powerful. Velvet pumpkins are trending this year and offer a modern and soft twist on fall instead of traditional orange pumpkins. A mixture of textural pillows in velvet and jewel tone linens welcome you to sit in this dramatic hammered metal chair. A gold chandelier is a classic and will always be in style.
2. Go Tone on Tone!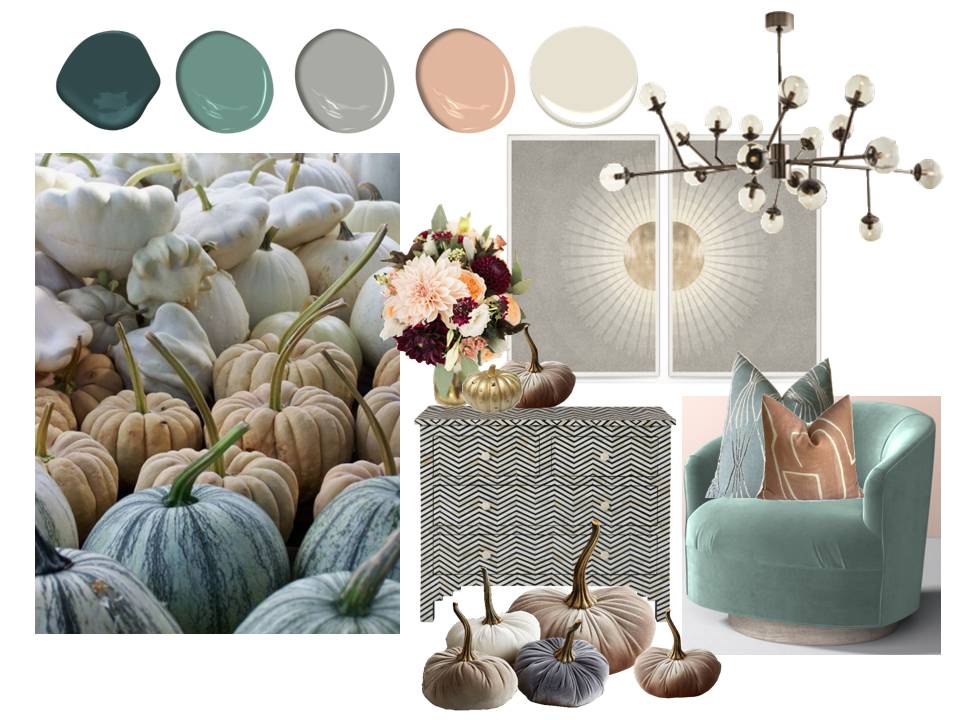 Sometimes we forget about the softer side of fall. The blue-green- grey misty colors of the Blue Hokkaido Squash, the rosy tones of Cinderella Pumpkin, and the crisp whites of the Lumina Pumpkin are a more subtle ode to season.
A dramatic black and white chevron foyer table with a modern gold and grey moon phase art piece is great background for your other subtle tones to blend right in with.  Put together a floral bouquet of sage leaves, soft peonies, dahlias and a few bold chrysanthemums to add some depth and a sweet scent to the air. Mix a couple gold pumpkins in with the velvet ones to break up the textures. A sage blue velvet swivel chairs with patterned linen pillows is a perfect spot to sit and sip on your pumpkin latte! Perhaps read the morning paper under this spunky modern chandelier.
Whatever your tastes, there are endless ways to decorate a space! The most important thing is to have fun with this, be yourself, and stay authentic to your own personal style by adding things that make you happy!
_________________________________
Sources for Scheme 1
Benjamin Moore Paint: Morning Light, Goldsmith, Spiced Pumpkin, Waterbury Green, Miramichi,  
Product Sources: Chair: Made Goods, Console Table:Made Goods, Velvet Pumpkins:Etsy- Your Hearts Content, Butterfly Wing Art:Natural Curiosities, Chandelier:William Sonoma Home, Accent Pillows: Etsy-Dekowe,  Pumpkin Photo Credit: Halloween Magick
 Sources for Scheme 2
Benjamin Moore Paint: Cinnamon 'n Spice, Morning Light, Cinnamon n Spice, Ghost Ship, Waterbury Green, Miramichi
 Product Sources: Swivel Chair:Anthropologie, Chest: Bernhardt, Chandelier: Arteriors Home, Art: Natural Curiosities, Pillows: Etsy- Dekowe, Pumpkins: Etsy- Your Hearts Content, Pumpkin Photo Credit: Shutterfly, Heirloom Varieties